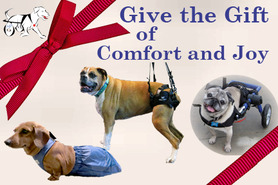 From: "HandicappedPets.com" <
HandicappedPets.com@mail.vresp.com
>
Date: Dec 18, 2014 5:49 PM
Subject: Gift Certificates to the Rescue
Perfect gifts for the caregivers of handicapped pets on your list!

Gift Certificates to the Rescue!

Purchase and deliver a gift certificate online for a friend or family member who has a companion with special needs or surprise a favorite animal rescue or shelter that is assisting an elderly, disabled or injured pet in need of a dog wheelchair or other product.

---
HandicappedPets.com
105 Route 101A, Suite 18
Amherst, New Hampshire 03031
US

Read the VerticalResponse marketing policy.